PRACTICE AND DIRECTIONS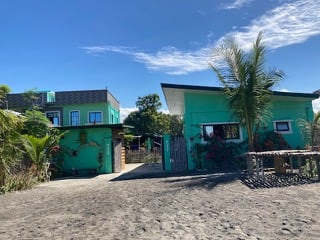 By bus from the capital Manila
From the capital Manila, these bus companies drive directly to us to Caba - La Union (La Union is our region / state).
The bus companies PARTAS, DOMINION, VIRON, FARIÑAS, GENESIS, MARIA DE LEON depart from their terminals in Cubao or Pasay. You can get there by taxi from Manila International Airport. You should ask for the direction of the bus at the terminals. Your bus direction is LAOAG, ABRA, or SAN FERNANDO - LA UNION. These routes stop at Caba "Plaza" on the main street. You have to tell the conductor "Caba Plaza" so he knows where to get you off.
Upon arrival in Caba, hop on a tricycle (motorcycle with sidecar) that will take you to your resort of choice in Caba. But you can also get to us by tricycle from the plaza or anywhere in Caba. The tricycles are the taxis here in the lowlands of the Philippines.
Booking and costs of the bus lines
The bus companies have the times of the departures and the possibility to book from abroad on various platforms such as Facebook and Twitter, as well as on their own websites. You should allow about 3 hours between your flight arrival in Manila and the bus ride.
Cost of the Manila to Caba Plaza bus ride, around 500 to 800 Philippine pesos. Depending on the bus category you choose.
Cost of Tricycle in Caba
Cost for the tricycle from the "Caba Plaza" (Plaza the village center on the main street) to us, or the Villa Navarro Resort, 20 to 50 pesos. About 50 to 100 pesos to the Cabatreas Resort.
We recommend from Clark Airport
From Clark International Airport near Angeles City, we will be happy to pick you up. The airport is outside of Angeles City. You can get to and from the airport premises only by taxi or private transportation. The airport was the former airport and base of the US Armed Forces that was converted years ago into the Philippines' second international airport to decongest and rebuild the airport in Manila.
Taking a regular bus is cumbersome as you first have to go to DAU, the largest bus terminal on the main island of Luzon. There you have to change to a bus from the companies mentioned above, which will then take you to us in Caba - La Union.
Directions to our property
If you want to drive to us, tell the driver that you want to be driven to Pepsi and Eusevio. My wife Pepsi is known in Caba. Our home and property is to the right of Villa Navarro Resort, continue down the road to the property with the black gates. There, on the right, the narrow path through to the aluminum gate on the left, where the number 777 is written on the wall.
Welcome to us.